---
Gallery Page 8
John Gets A Lot Of Looks With This 1957 Beauty!
John Corman bought this truck on eBay from a guy in Arizona so there was no rust on it. Other than the rear fenders (which we found for him) it was very straight. The truck was originally a flat head six with the push button auto. The drive train now is all out of a 64 Plymouth Belvedere and has a newly rebuilt poly 318, push button 727 automatic, and a car 8 3/4 non-posi rear end. He couldn't believe the receipts he got with it when he went to pick it up. Over $1000 in the engine alone...new everything, carb., alternator, distributor, fuel pump, starter, rebuilt heads and bored block. Another $1200 for new brakes, wheel cylinders, master cylinder, weather stripping, air shocks, front shocks, king pins and other stuff he can't even remember. Looks like the guy had done about everything but the body and paint work. John bought a 58 locally to get some of the things he still needed like the correct heater,drivers window and some of the bed rails. The bed wood was cut from a 1922 electric pole and is western red cedar. The color is Viper blue and the cab, grill and headlight bezels were shot in white with blue pearl. He still has the interior and rear roll pan to finish. John is going to install 72 Cuda taillights and a 70 Challenger backup light for the roll pan. For the interior, he is hoping to find a newer Dodge pickup seat with the integrated seat belts. In the future John may install a 360 he has so he can use some of the performance parts he already has. John also plans to install a posi in the rear end. That way if he winds up using it to pull his car trailer, it will have more traction. One weird thing about the truck when he got it...he figured the passenger front fender must have been rusted or crunched because there was about a gallon of bondo on it. It was so thick it hadn't even cured all the way through. John kept sanding and sanding until he got down to the straight rust free surface. John has tried to use all Mopar parts in redoing the truck and so far everything but the front bumper (International Scout) is Mopar. This is a DAILY DRIVER and John says it is really fun to cruise in. NICE JOB JOHN!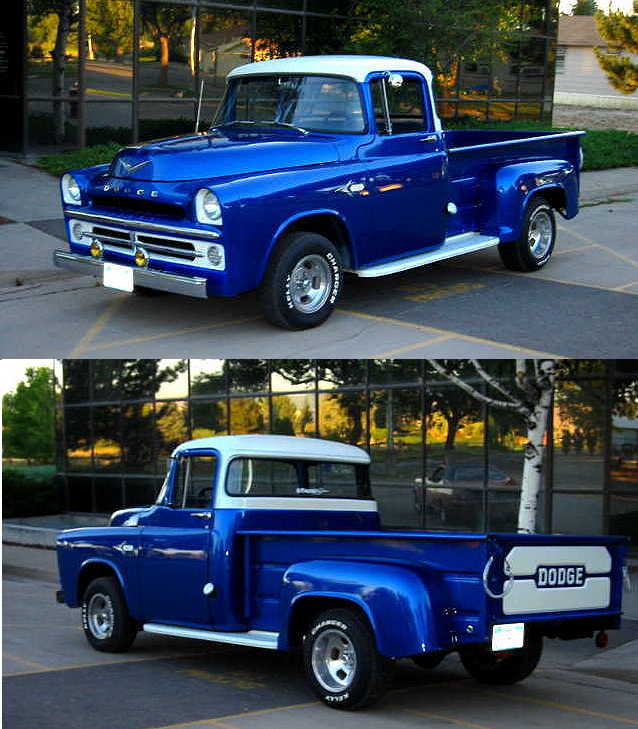 ---
Are you proud of your Dodge truck or car? Want to show it off? Please email me a pic along with a description of your vehicle and I will add it to the Gallery.




Joe Leonard 2007-03-29